Alicia Keys Surprised Swizz Beatz With An Aston Martin For His Birthday!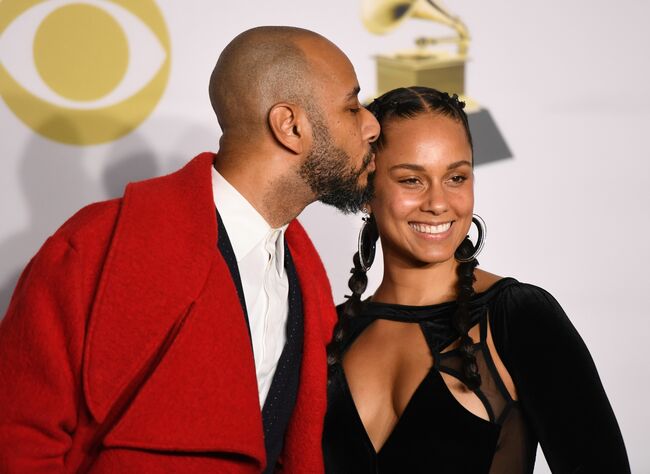 It's going to be hard for 'The Voice' coach Alicia Keys to one-up herself for husband Swizz Beatz's next birthday! The 'Empire State of Mind' singer surprised her partner with a 2019 Aston Martin Vantage, as reported by TMZ. In the video below, Alicia begins by addressing the paparazzi and asking them not to ruin the surprise.
"Ok, y'all can't talk ok. This is like a super surprise...so don't do anything. Don't ask us no questions don't say anything, but thank you."
She then guides the blindfolded Beatz out of their SUV and to the lot where she had the car delivered at World on Wheels, a skating rink in Los Angeles, California. When asked by a cameraman what he thought was happening that night, Swizz reveals he believed Alicia was bringing him to a restaurant for a birthday dinner.
"This is so stupid. Nah, this is crazy...I thought we were going to a secret restaurant, some ninja restaurant. My wife is always up to something special."
The 'Fallin' songstress revealed that the surprise did take a little bit of planning, and a few small lies, to pull off successfully. Her answer to the question of how it all came together was:
"Aw, man. With a lot of help. A lot of good friends that contributed - who love him. And uh, a little few white lies just kinda so he didn't know, so we could throw him off because he's so nosy. The worst thing that was told to him was that this was sold. He was quite upset. He had his eyes on this."
Swizz Beatz didn't waste any time breaking in the car, as his apparent first road trip was to the hospital to get his aching arm looked at. Also, the price-tag for this vehicle was anything but cheap, starting off at a cool $149,995.
If Alicia purchasing this car for her husband wasn't indicative enough of how strong their marriage is, see how they opened up about their relationship to his ex-wife Mashonda Tifrere. The couple recently revealed the tactics they use to maintain a healthy and happy blended family. After several miscommunications created a divide between the mother of Swizz's child and the couple, Alicia stated they collectively agreed to "do better" and make a change.
"We love each other. I mean, we hang out with each other. We go to dinner together. We're doing Thanksgiving, we're doing the holidays....It is a beautiful partnership. And that is really, really special. I'm very, very proud of that."
Photo: Getty Images