Kim Kardashian Poses Topless & Talks About Her Sex Life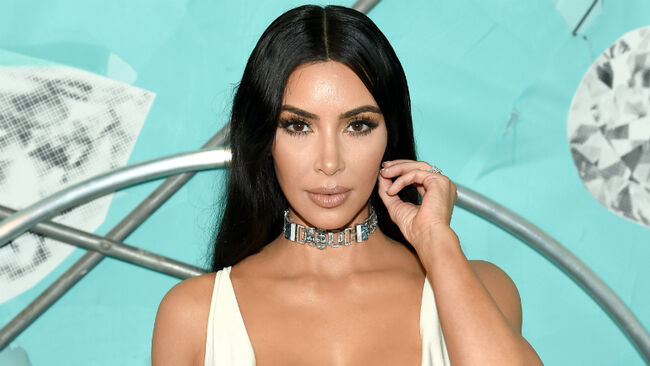 Kim Kardashian stripped down for her latest magazine cover.
The Keeping Up With the Kardashians star went topless (and a whole lot more) for Richardson's 20th anniversary Issue A9. The sexy spread, which was shot by photographer Steven Klien, was inspired by the adult animated Japenese film Perfect Blue. The issue features Kim "in a never-before-seen light" (according to the mag's press release). One being her posing naked, face down in a bathtub. In addition to her unique photo spread, the reality star turned business mogul also opened about her sex life with husband Kanye West and her 2007 sex tape.
"It's actually funny, at home I'm much more conservative than my public persona is," Kim explained before discussing how she's hesitant to talk publicly about the dirty deed. "My public persona is wild, sexual. But I'm actually uncomfortable when I talk about sex, and I'm more conservative when it comes to that. But I'm vain like that. I can go on a set and be fully naked in front of 50 people doing a shoot, but if I'm one on one, intimate in bed, I'm like shy and insecure."
"I definitely have two different personalities like that," she admitted. "But I think motherhood has actually made me more confident about being publicly sexy."
Kim, though, wasn't reluctant to discuss how she fought to get her sexy back after having kids, telling the mag, she believes women can absolutely be "sex goddess[es]" after children. "I was somebody who gained sixty or seventy pounds in my pregnancies and felt so unlike myself and so unsexy. Literally, at the end, when you can't even have sex, I thought, 'I'm never going to have sex again in my life!' I just felt so bad about myself in my soul. The internet was making fun of me, comparing me to whales! Shamu and I were in a 'Who wore it better?'-side by side," she shared. "I didn't lose weight that quickly," Kim continued. "But I'd say eight months later I had probably my best body ever. I felt like, 'I did this. I lost all this weight on my own. I feel better than ever!' I just put my body through that, and so it was empowering when I did a nude shoot."
The mag also delved into Kim's past, asking her how her infamous 2007 sex tape compared to that of her close friend Paris Hilton's 2004 sex tape. "Well, I thought that for Paris it was explosive and a super lot of attention for her too, in a positive way," she explained. "But once you go through it and you have those conversations with your parents and grandparents and everyone that you'd be really embarrassed about it with, I think you get to a point where you're like, 'Okay, we're dealing with this legally, and it's time to move on.'"
"Everyone deals with things differently, and I seem to deal with things—whether the sex tape, the robbery, even the death of my dad, who was the most important person in my life—I push to just overcome it," she added. "I just don't have a victim mentality. That's never been my personality. I've always been like, the victor—'I can get past this, and this will not define me.'"
Photo: Getty Images